WE'D LOVE
TO ADD THAT
LITTLE EXTRA
SPARKLE
!
HAVE A CHAT TO
US ABOUT ADDING A
PROFESSIONAL FIREWORK
DISPLAY TO YOUR EVENT...
Based in Shrewsbury, Shropshire we provide professional firework displays, wedding fireworks and musical fireworks. Fireworks are our passion, we are a family business and proud of it! If you are looking for fireworks at your wedding or event look no further than Matthews Brothers Pyro!
Whatever your budget and whether it's a Wedding, Birthday Party, Corporate Event or just about anything else, we can help you provide a spectacular Firework Show. Click on the tabs below to have a look at our work, we can't wait to speak to you…
We have lots of examples of our work on the Video page, and when you are ready get in touch via the Contact Us page…
Planning a Wedding?
Finish your big day off in style with a spectacular firework display. Whether you want to make a big bang or a colourful show we can cater for any taste…
Organising an Event?
Take the stress out of an organised firework display by letting us do all the hard work for you. All you need to do is tell us what you need and we'll do the rest…
Health & Safety
At the forefront of everything we do is safety. We provide full risk assessment documentation and insurance once an onsite visit has been completed, so you know you are in the safest of hands…
All Set To Music
All of our shows are set in time to music using the latest wireless technology. You pick the track and we'll design an amazing show to go along with it!
The Big Finale
Really end on a very very high note with an amazing finale set. Your guests will be amazed as the sky fills in front of them !!!
Big or Small ???
Whatever your budget we can deliver. With professionally fired displays starting at just £750 we can cater for any event.
Organising a firework display can be very difficult under the current legislation, so let us take the weight off by ensuring all the correct insurance is in place, and everything is run to the letter of the law. We aim to offer a totally stress free solution.
Industry Leading Training
All our operators are trained by the industry body Illuminate Consult to comply with the very latest legislation. Health & Safety is at the core of everything we do, and every measure is taken to ensure the safe running on an event.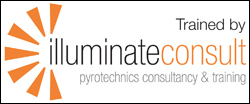 Insurance
Every event is covered by fully comprehensive professional firework insurance. A full risk assessment, or RAMS document is provided for every job. We do everything in our power to prevent accidents from occurring, but are fully covered in any eventuality.